Mother's Day is coming up, May 10th, give your Mom a sweet special Gift….                       to show her your love and appreciation.
In the face of the Corona virus situation we will deliver orders in Orange County in the order amount of 100.00 and above for a 10.00 fee. The order deadline is May 4th 2020 and the Gifts can be picked up Saturday May 9th or will be delivered on Saturday May 9th or  Mother's Day May 10th. Please call 949.677.7994 to place your order or email [email protected]
Thank you for supporting small local businesses!
Chocolate Gift items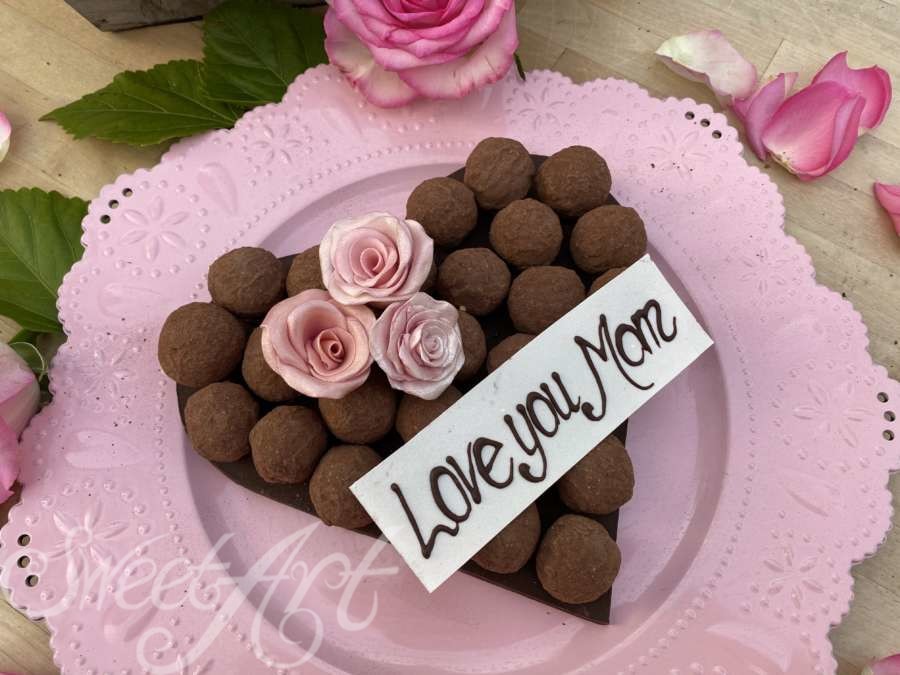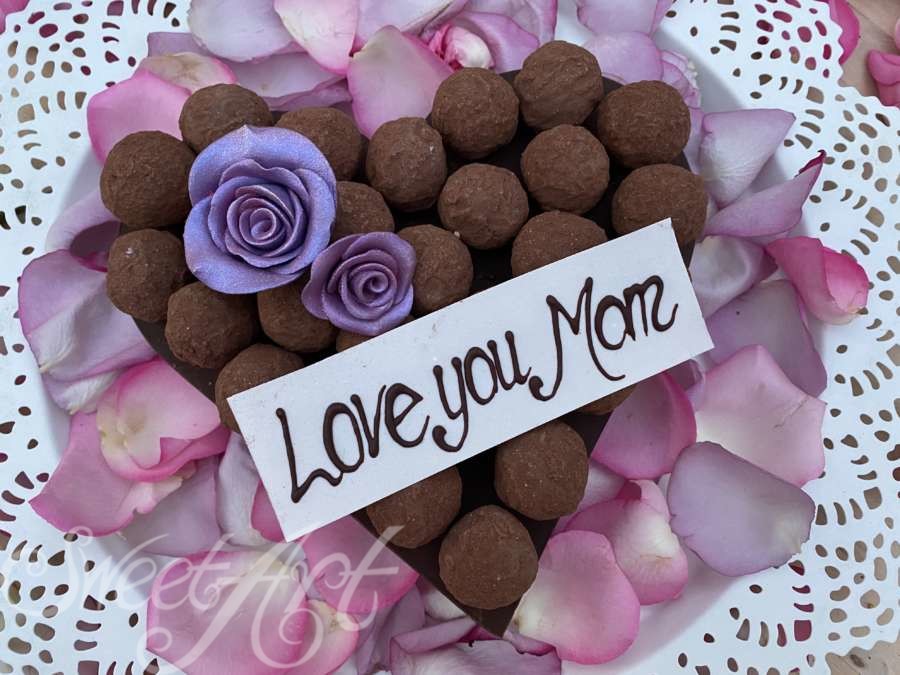 Large Chocolate Truffle heart, about 30 melt in your mouth dark Chocolate Grand Marnier truffles decorated with hand made Roses displayed on platter wrapped with Cellophane and Ribbon.                      available with pink or purple roses and hand written sign   85.00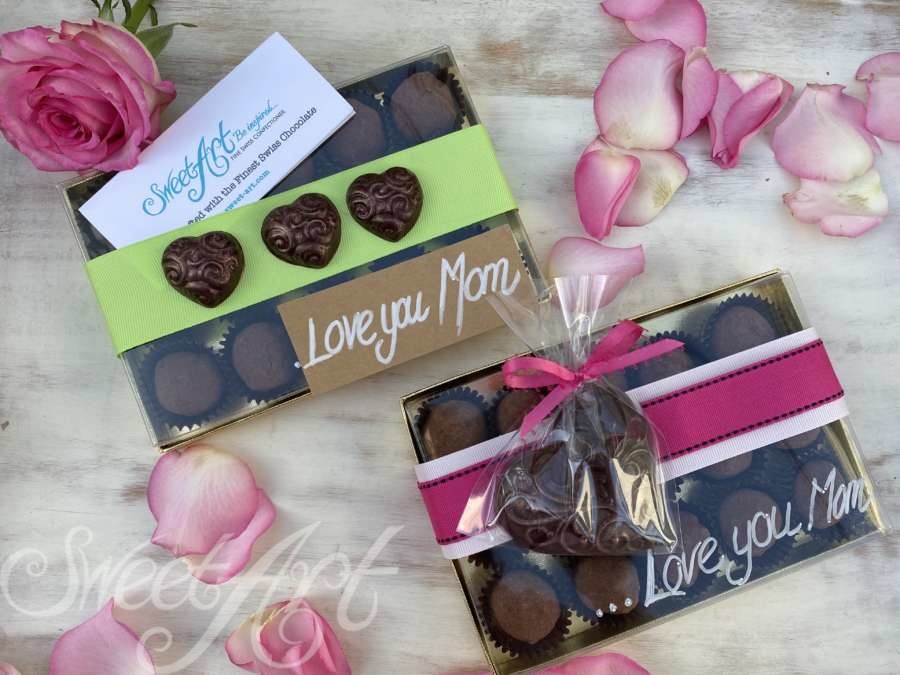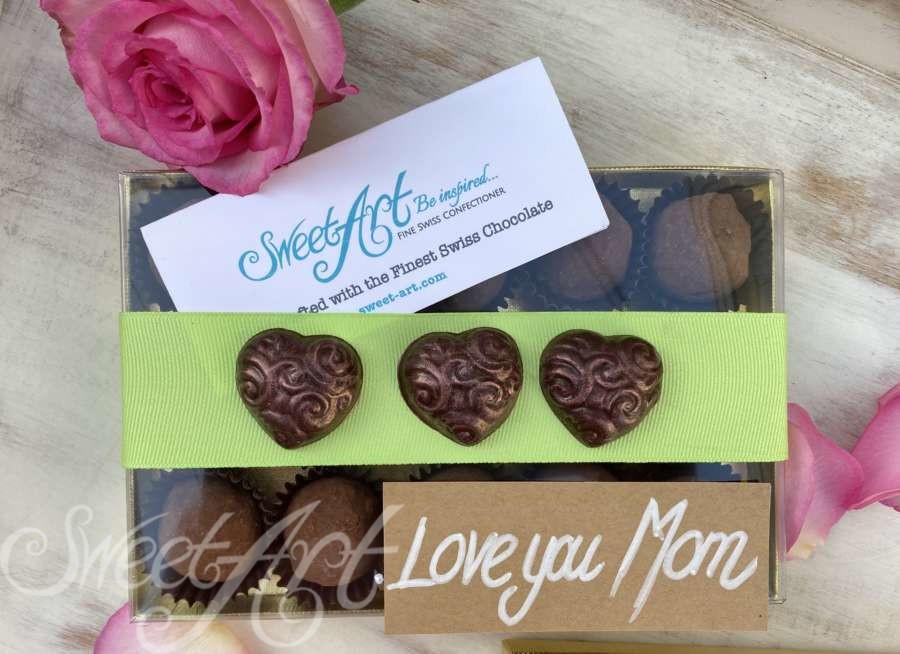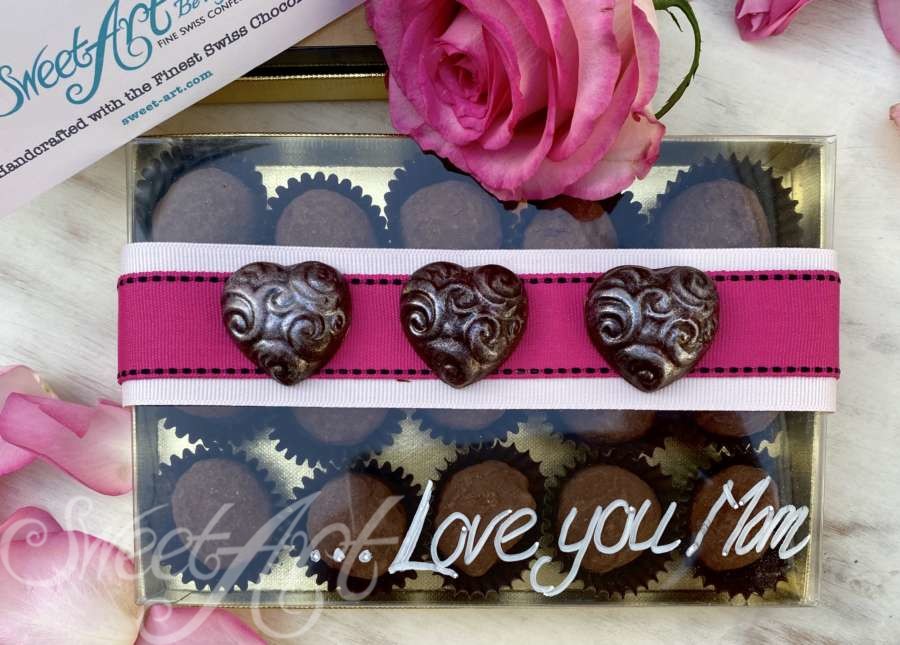 Chocolate Truffle gift boxes 15 creamy fresh cream truffles available in Milk or dark Grand Marnier and Praline. Decorated with small Chocolate hearts and personal message on box. Available with lime green or hot pink Ribbon 32.00 per box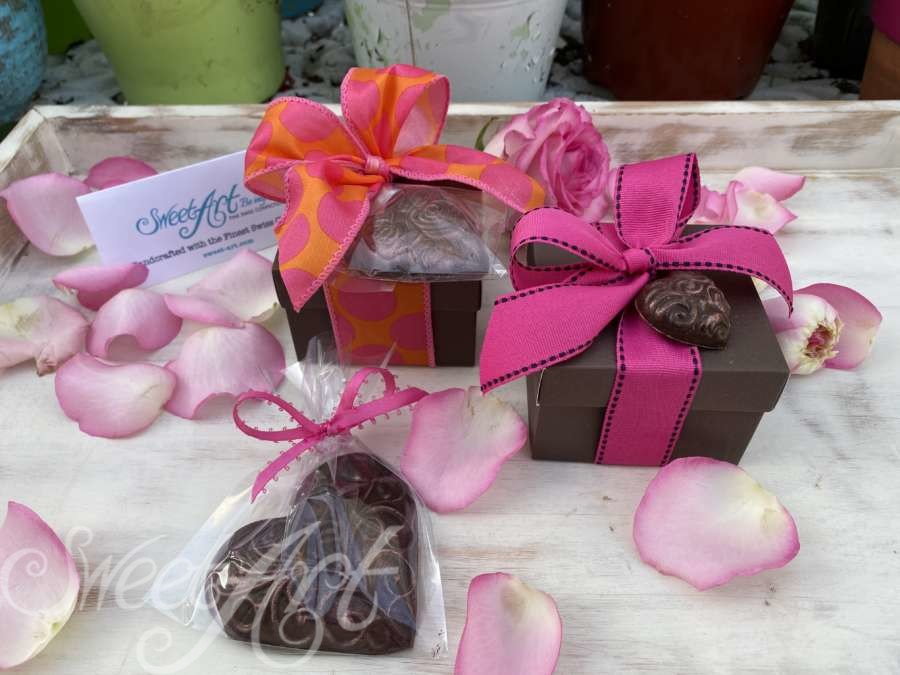 Cube Truffle boxes with 8 Max Truffles,  great as a add on with Flowers, decorated with either Lime green, hot pink or Orange Ribbon decorated with small Chocolate heart. Available with Milk or dark Chocolate Grand Marnier truffles 20.00 per box
Large individual dark Chocolate hearts packaged with Ribbon 5.00     Medium packaged Chocolate heart 3.50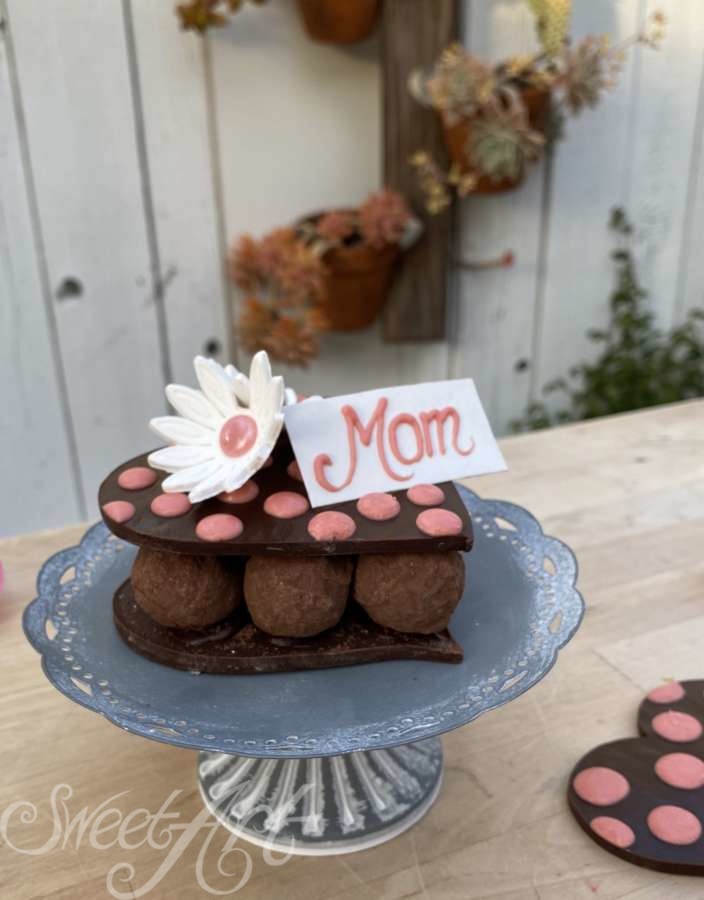 Fun Chocolate Truffle Sandwich box with soft pink poke dots  on top filled with 8 Truffles and handmade flowers and Mom sign in soft pink. Stand not sold will be packaged on gold base.  28.00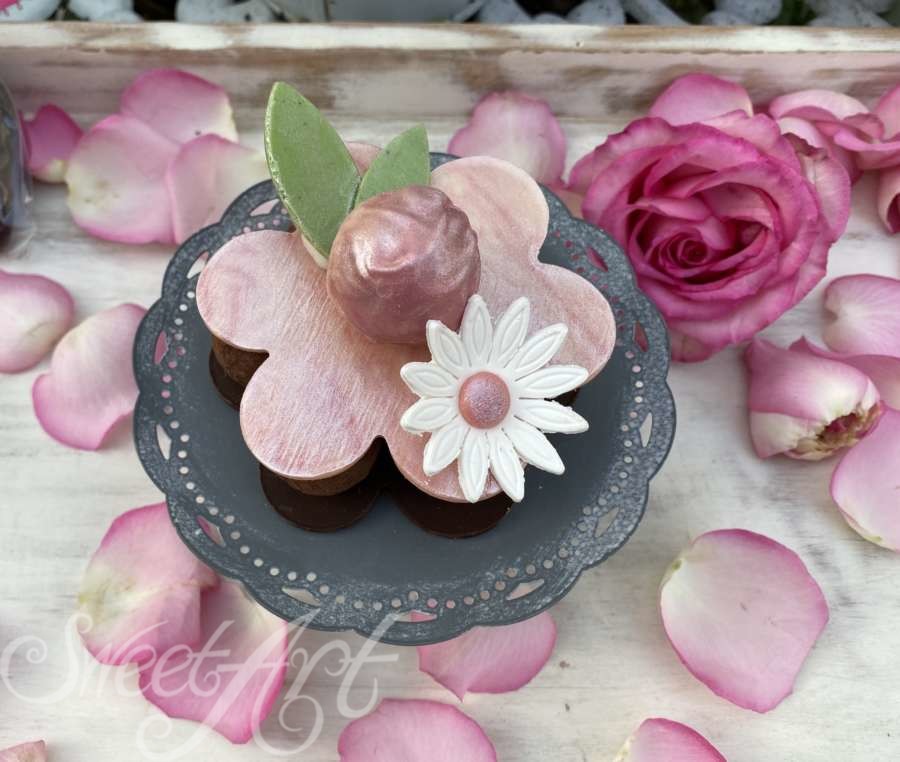 Cute happy flower in pearlised soft pink Chocolate filled with Truffles (8 truffles including the top of the flower, decorated with handmade flower and chocolate leave. Packaged on gold base in box or cellophane and Ribbon. Mother's day tag available 26.00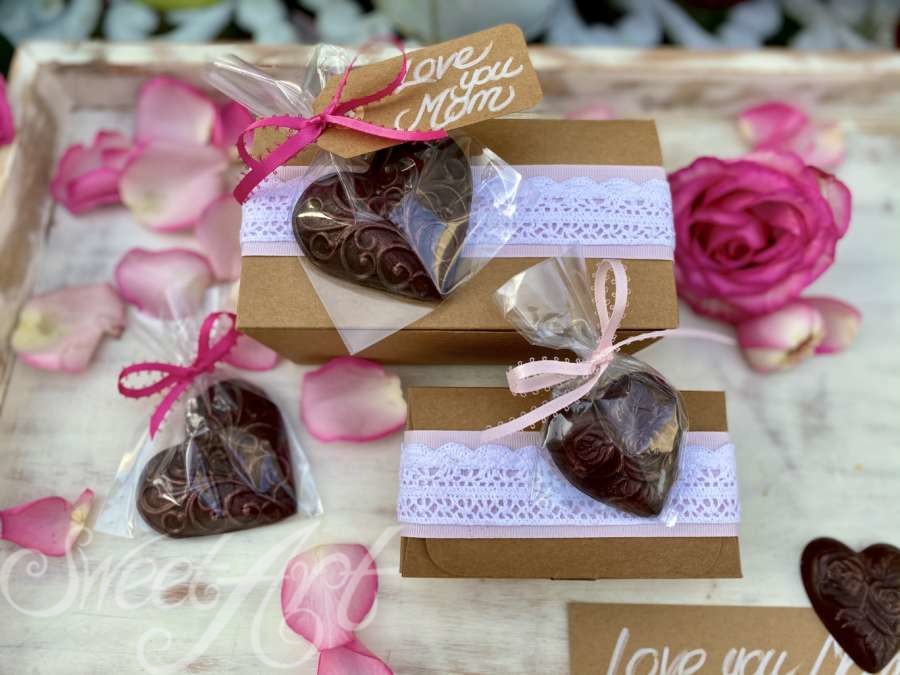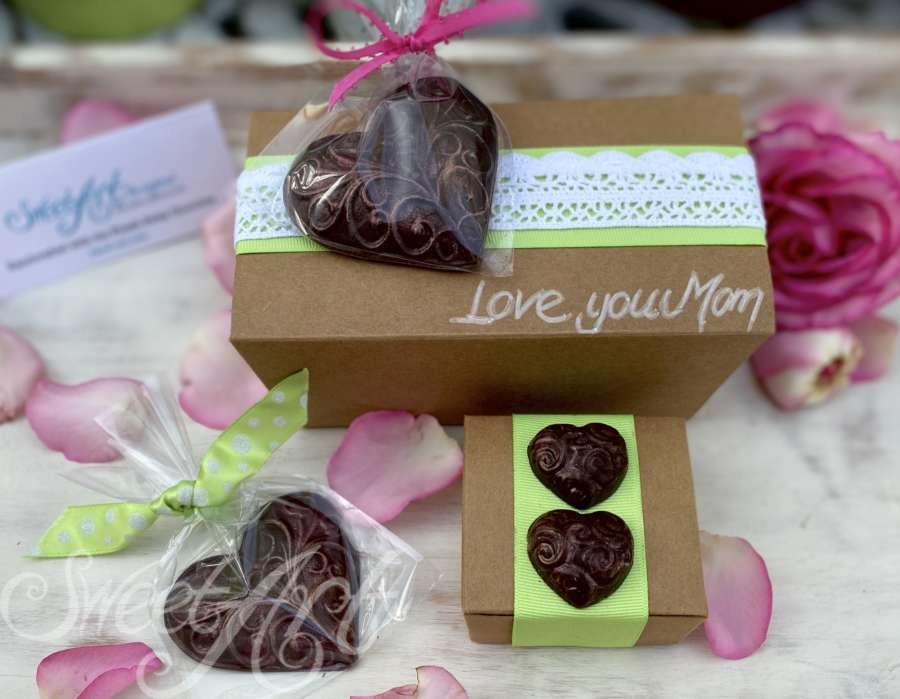 Kraft boxes with Truffles, available in Milk Chocolate, Praline or dark Chocolate Grand Marnier.
LARGE BOX: one pound truffles decorated with soft pink or lime green Ribbon and white lace, decorated with large Chocolate heart and personal message. 55.00
MEDIUM BOX: 8 Truffles (about 1/4 pound truffles decorated with soft pink or lime green Ribbon and white lace and decorated   with  medium packaged  chocolate heart. 22.00
SMALL BOX: 4 Truffles decorated with lime green or hot pink Ribbon and two small hearts. 12.00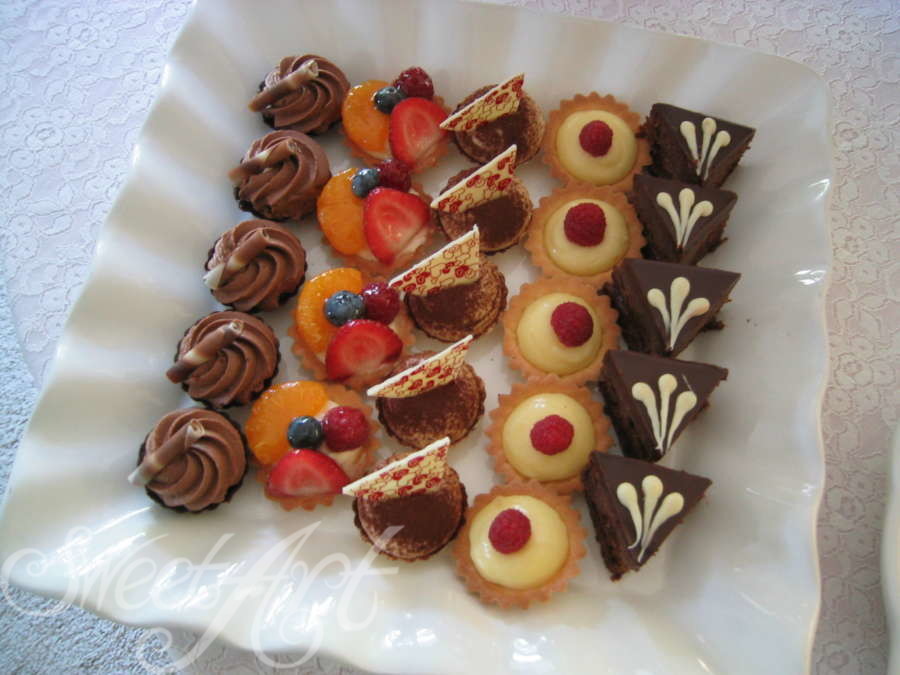 Assorted Mini pastries. 2 dozen Minimum order 42.00 per dozen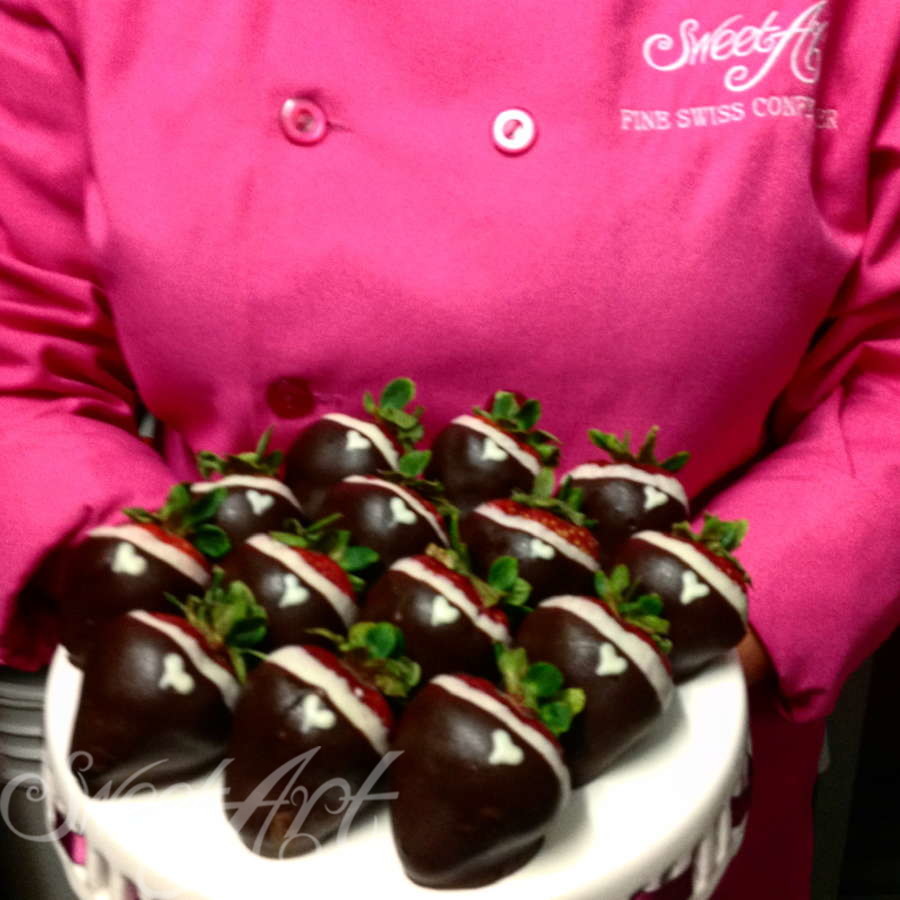 Double dipped Chocolate covered Strawberries One dozen boxed with Ribbon 50.00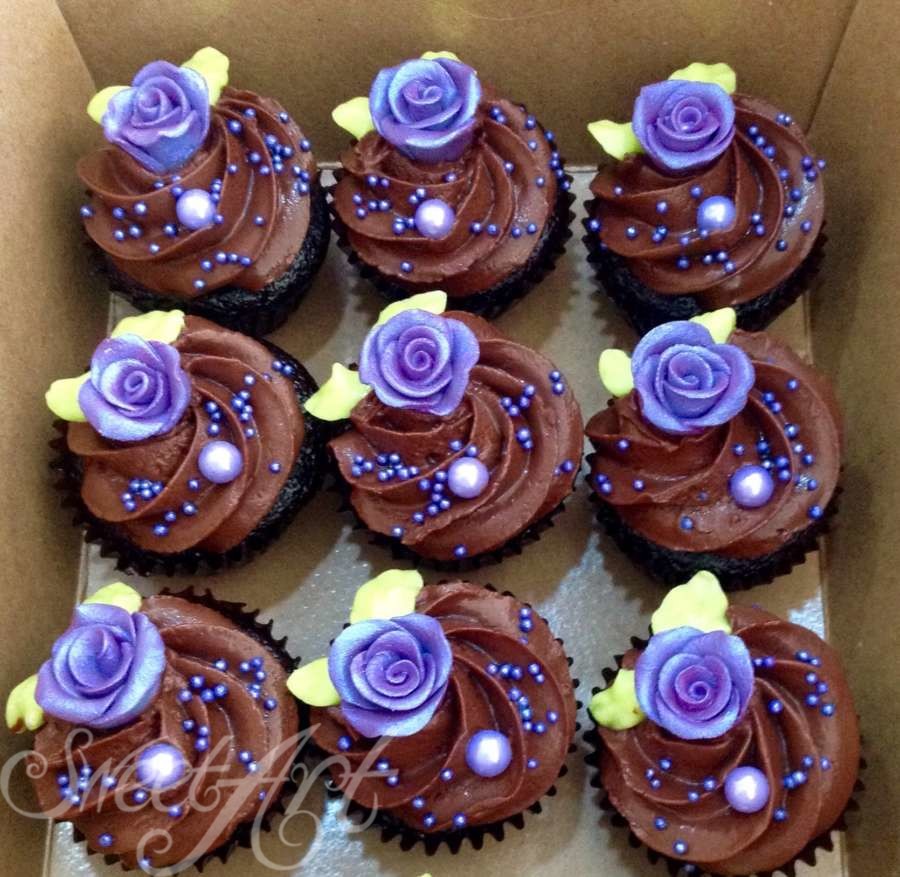 Box of Miniature chocolate Cupcakes with Smooth Ganache and intricate handmade roses in box with Ribbon. 50.00
Place order over phone or text 949.677.7994 or email [email protected] order for pick up or delivery. For delivery in Orange County 100.00 min purchase 10.00 delivery fee. Order needs to be place by May 4th 2020 for delivery on Saturday 9th or Sunday 10th.
Thank you for supporting small local businesses