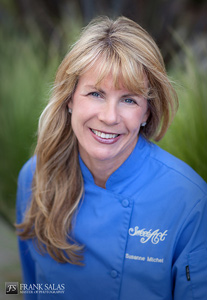 Swiss educated Pastry Chef and Designer, Susanne Michel was born and raised in a bakery in a little mountain town in Switzerland. Educated in Berne, the capital of Switzerland, as a Pastry Chef and Chocolatier.
She has over 20 years experience in pastries, designing wedding cakes, creating show pieces, pulling sugar, petit fours and chocolates in upscale Swiss chocolate and pastry shops. Also luxury hotels, fine dining restaurants in California such as the Four Seasons, Pascal's and Le Meridien.
As a pastry chef, Susanne designs gorgeous cakes for the couple's wedding day. She complements those works of art with delicate, hand-crafted edible name cards and combines chocolate and calligraphy to create harmonious décor elements that bring out the beauty of a cake and become scrumptious favors for the couple's fortunate guests.
Susanne enjoys creating edible and unforgettable art for you, which touches your heart. Her mission is to produce fine quality sweets with a personalized touch of Art, to create a lasting memory of your special event.
(Photo: franksalas.com)