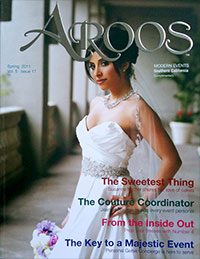 Aroos Magazine is proud to present an exclusive interview with one of Southern California's most in-demand Pastry chef and Cake designer, Susanne Michel of Sweet Art. The Swiss-born chef has made one-of-a-kind creations for Persian weddings at luxury venues ranging from the Balboa Bay Club to Rancho Las Lomas to the Resort at Pelican Hill, and offers a blend of creativity and quality that many brides (and their guests) say is unparalleled.
* * * * * * *
Aroos: What's the history of your company? How did you get into business?
Susanne Michel: Before I came to America, I worked at many established pastry shops in Switzerland. I came to California many years ago as a pastry chef through a professional exchange program, and worked in many great pastry shops, hotels and restaurants — including Pascal's in Newport Beach, who helped me get my green card.
In the meantime, I became a proud American citizen. I worked at the Four Seasons hotel for many years, where I created and designed most of the wedding cakes for Pelican Hill. I've always enjoyed the creative part of my job, and wedding cakes were a great outlet for my gifts, and my passion for product quality that I learned in Switzerland.
The freedom to be creative came to bloom in America. I enjoyed it when I got to meet with the customers one-on-one, because I realized they enjoyed designing their cakes one-on-one with a pastry chef, exactly according to their personal concepts and ideas. It was my favorite thing to do: design and express my customers' visions, displaying them in beautiful cakes which reflected and matched their personalities and tastes. That's where the passion started for cakes.
I had many people always encourage me along the way to start my own business. I grew up in one, so I knew it couldn't just be hard work; it had to be passion and purpose and love for quality and serving people well. At a time of reorientation and a search for some change in my life, I decided to become a flight attendant and do cakes on the weekends. But then 9/11 happened — and that was the end of that idea. But the other door opened wide, when one my friends, who believed and encouraged my talent for many years, planned a huge, high-end party. they placed a cake order, including a big dessert buffet with an fuel assortment of miniature french Pastries, expecting the order to be done, even though I had not officially started with my business yet.
But it started there: The orders started coming in, first part-time, doing a few cakes and parties a month, and soon it got very busy. I enjoyed the challenge, the organizing and creating. I worked together with an amazing graphic artist, who did all the art and advertising.. We started looking for a professional kitchen. I 've also been very blessed by so many professionals,family and friends who have been an amazing support along the way with many ideas and practical help.
In the last nine years, we have done cakes for many upscale clubs, venues and hotels, including  Seven Degrees, Shady Canyon and Pelican Hill. One of the beautiful hotels I have worked with for a long time is the Balboa Bay Club. Serving each customer individually is my singular focus.
What made you first become interested in baking?
I grew up in a bakery and grocery store, something like a farmer's market, in a small tourist mountain town in the Bernese Alps in Switzerland. I helped my dad and mom since I was very small in the bakery. I especially enjoyed helping my dad with baking and decorating. From early on, I enjoyed creating and decorating miniature cakes, and made handmade roses, always duplicating what I learned from my dad. I also applied my own creative touches; my dad cheered me on.
When I was done with regular school, I was accepted out of many others to do my apprenticeship and pastry schooling in Bern, Switzerland for three years, as pastry chef, confectioner and chocolatier at one of the very best pastry shops under a seasoned, strict, artistic and well-known pastry chef.
I  learned from making fine pralines and truffles, ice cream, miniature pastries and desserts — and handmade, edible seasonal marzipan molded gift items such as cartoon animals, flowers and little figurines of people.
Not to forget many beautiful cakes, which were ordered for all occasions and left no limit to the imagination and creativity. It was my favorite thing, expressing the customer's wishes and making them happy. As I told my mom when I was younger, and was deciding possibly to become a pastry chef:  "Mom, if I become a pastry chef, I can make people happy with what I do, right?!"
What flavors, styles, etc. do you offer, and what are some of your personal favorites?
We offer a whole list of cake flavors. The most important, I believe, is having everything done from scratch, with fresh ingredients and fresh fruit. The flavor is nicer and fuller. The cakes don't turn out as sweet, and have no chemical aftertaste. One of my favorites is the chocolate cake with a layer of praline crisp and coffee or praline mousse. Since we do everything from scratch, you can have any flavor you wish.
As for the look, you can really have any look you want. Clean workmanship is key. I always say any style is beautiful, if you keep the style. Personally, I like "simple elegance." I very much focus on reflecting the bride's taste and the decor of the wedding. It will create a beautiful, harmonious look in the room.
Do you work with all budgets, or do you specialize in high-end events?
We do a lot of high-end weddings, but even with a lower budget we can create a beautiful cake. One way is to use a little less intricate decorations, and possibly use fresh flowers.
Could you describe what products and services you provide in addition to wedding cakes?
We do a lot of special occasion cakes, cupcakes and miniature cupcakes, beautiful edible chocolate handwritten namecards, and edible favors for all occasions that match the cakes: miniature wedding cakes, assorted French pastries, dessert buffets, high teas and I am looking into teaching more pastry classes.
What is one of your most memorable wedding cake stories, and what made it special?
A couple years ago I had a bride come in with her girlfriend for a cake tasting. It was going to be a smaller wedding, and the wedding date was coming up pretty quickly. The bride, at a more mature age, had a natural stunning beauty and a such sweet expression that I felt a connection. She was in love — it showed — but she seemed really nervous about the upcoming wedding. Her girlfriend tried to encourage her; so did I. She chose a Provence-style, lush looking wedding cake, just perfect for her. A couple days before the wedding, I got a sad message: the wedding was canceled.
Oh, I was so disappointed for her… I left her a message saying I would make another cake for another occasion with her deposit, when she was ready … or, one never knows; they might decide to get married at a later point after all. I don't know what came over me; I usually don't get this personal with my customers.
Well, several months later while I was working in the kitchen, I kept thinking of her and decided to call her the next day. I got a phone call from her that day, saying she now needed the wedding cake after all, because they were getting married. I was so excited. She shared later that she was so encouraged by my words of hope… She looked so beautiful, so happy, so full of joy and peace when I saw her at the wedding. So did the cake. There are second chances after all!
What makes you stand out from your competitors?
We do everything from scratch, including the cake mixture. Most products are imported from Switzerland. I focus on clean craftsmanship and a personalized experience for the bride and the groom when they come in for the tasting and cake designing. They get to taste several cake flavors and fillings, and I will design and draw each cake for my brides according to their personal taste and design, matching the reception decor.
What are some of the big trends you are seeing in weddings right now?
Lots of soft touches, such as fabric flowers and roses, and sparkle and lace. For cakes there is no limit for creativity and design; that's what makes it so much fun. Anything you can think of — a dress, an invitation, a picture, a porcelain design — can be applied or copied to be used for a beautiful, unique wedding cake design. Still, I see a lot of brides like simple and clean lines. Sometimes less is more…
What's your advice for brides on a budget in this recession?
Get either just dessert or just cake. Get a great quality cake with simple decorations and fresh flowers, which you can serve as dessert instead of getting both. Or serve cupcakes with beautiful decorations, which come with all the same great fillings as the wedding cakes, but are less expensive. Combine them with the simple chocolate handwritten namecards. So you "hit two birds with one stone", they serve as name cards and favors, and are edible!
What are your future plans?
Continuing to serve my brides with the best quality, creativity, and workmanship, unique to their personal taste. Combining them with matching edible favors.
One of my desires is to teach and coach women, men and kids to be more creative themselves, in teaching them to make quality desserts, edible art and decorations in a timely fashion so they can spoil their families and guests.
Teaching them the basic skills of working with recipes, different ingredients and tools, so they can apply them and use their own creative touches and ideas for their special occasions and holiday parties, which brings great fulfillment and joy.
I love to see people happy and pass it on. Being able to help people create "literally something sweet" for someone else — a little birthday cake or a chocolate card personally designed — is just a beautiful way to touch someone's heart and express a little bit of love. We need more of that in this world.