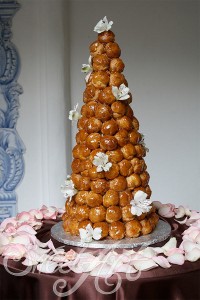 Looking for something really special? Try a Croque-En-Bouche. It's a traditional French dessert. The name comes from the French words croque en bouche, meaning 'crunch in the mouth'.
Croque-En-Bouche is a form of choux pastry that is generally served as a high-piled cone of chocolate, cream-filled profiteroles all bound together with threads of caramel. It is also decorated with sugared almonds, chocolate, flowers, or ribbons.
Long ago in France, it was custom for villagers to throw buns into a pile of preparation for the wedding feast. A clever baker decided to take some bun-like pastries stuffed with cream and fastened them as a pyramid, like the mount of buns, creating a tall cone of caramel-coated cream puffs called croque en bouche – "crisp in the mouth".
A Croque-En-Bouche of Sweet-Art is featured in the Blog of In The Now: "The Croquembouche was made by Susanne Michel of Sweet Art who came through for us during the final week before the wedding, when the original baker was no longer available. I didn't get to taste a piece myself, but I heard everyone around me oohing and ahhing at how delicious the chocolate mousse inside it was. Maybe one of my other brides will order one of these again and save me a piece? ;) Any French brides out there??"
See also In The Now: Grace & Brian